UNOBAT 62+ | Sports Flooring
The UnoBat 62+ System provides excellent performance and safety, along with the ability to accommodate all types of irregular subfloors. The 22mm solid hardwood floor boards are fastened to a subfloor system consisting of single layer engineered battens with preattached shock absorbing rubber pads.
The pre-attached rubber pads snap-lock into either a J-lock cradle or if the floor needs to be levelled, a J-Lock adjustable wedge. The J-Lock cradle serves as a durable stop block for flat subfloors.
The J-Lock adjustable wedge allows for the quick correction of uneven subfloors into flat, ideal playing surfaces. Levelling the floor is conducted without use of nails and tools.
Packing blocks fitting the adjustable J-lock Wedge are available in a variety of thicknesses to easily increase the height of the floor system as needed.
Looking for specs and documentation? Download our specs below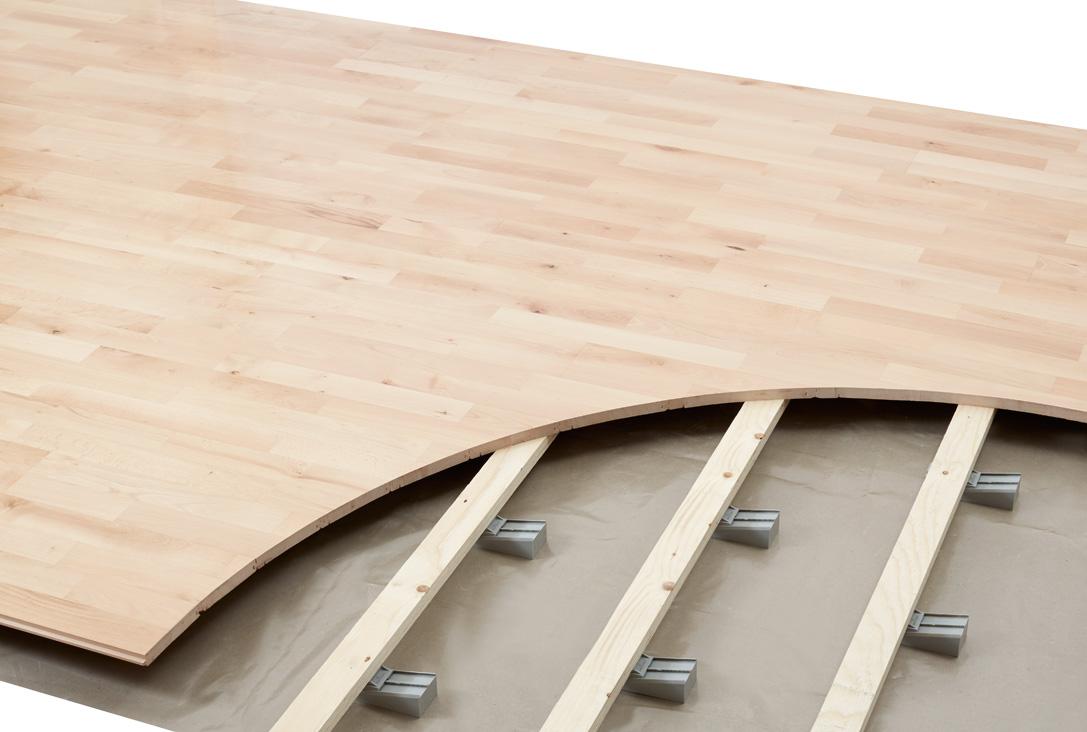 Facts
PERFORMANCE

Area-elastic according to EN 14904 class A4

USE

All types of sport
Multi-functional sports halls
From small leisure centres to large arenas
Refurbishment

FLOORBOARD TYPE

Prefinished 22mm 2-strip solid hardwood

SUBCONSTRUCTION

Single layer batten system

BATTEN CENTRE, C/C

Choice between 336mm and 411mm

REQUIRED SUBFLOOR

Even or uneven

CONSTRUCTION HEIGHT, PACKINGS EXCLUDED

62mm

CONSTRUCTION HEIGHT, PACKINGS &
ADDITIONAL PACKING BLOCKS INCLUDED

From 82mm to 209mm

JUNCKERS 25 YEARS FATIGUE TEST

✔

SANDING AND RE-SEALING

Yes to bare wood 8-10 times

SUITABLE FOR UNDERFLOOR HEATING

Yes
SYSTEM COMPONENTS
1. 22 x 129 x 3700mm floorboards
2. UnoBAT 62+ batten: 25.5 x 60 x 3600mm with shock pad
3. J-LockWedge
4. PE moisture barrier
5. Combi sports skirting
TEST RESULTS

REQUIREMENTS EN 14904:A4

BATTEN DISTANCE C/C 411MM

BATTEN DISTANCE C/C 336MM

SHOCK ABSORPTION

≥ 55 < 75 %

67%

65%

VERTICAL DEFORMATION

≥ 2.3 < 5.0 mm

3.0 mm

2.6 mm

BALL BOUNCE

≥ 90 %

93%

94 %

FRICTION

≥ 80 ≤ 110

~ 85

~ 85

ROLLING LOAD

≥ 1500 N

3000 N1

3500 N1

POINT LOAD

None

5500 N ~ 550 kgs2

6000 N ~ 600 kgs2
1. Junckers test with solid rubber wheels: width 50mm, diameter 100mm.
2. Junckers test with 100x100mm point load.
BRUCE PULMAN, PAPAKURA NEW ZEALAND
6100 m² 22mm Junckers Solid Beech on Junckers UnoBAT 62+.
UNOBAT 62+ J-LOCK LEVELLING SYSTEM
See how Junckers unique J-lock levelling system works
SPECIFICATIONS
You can find autoCAD files in the zip-file below
NBS SPECIFICATION DOCUMENTS (download)
CHOICE OF FLOORBOARD
A Junckers sports floor is made from 100% solid hardwood and will last for generations. Each floor board is made from two rows of staves and is tongue and groove jointed all round.
The floors are extremely stable and therefore cause no challenges when humidity levels change through the year. We take far longer than normal over the drying process to ensure that the movements that occur naturally in all wood is fully controlled and kept to a minimum. Our Beech sports floors are dried using Junckers unique press drying method. Our ash and maple sports floors are kiln dried.
Our floors are ready to use as soon as they are fitted. This is because Junckers floors are sealed in the factory with our own produced hard wearing polyurethane lacquer.
All Junckers solid hardwood sports floors have the Danish Indoor Climate Certificate for low emissions of organic substances and can be delivered with either a FSC® or PEFC™ accreditation.
We guarantee fast and easy installation. Each floor board has a length of 3700mm and covers approx. 0.5 m².