BATTEN FLOORS WITH UNDERFLOOR HEATING
COMMERCIAL/RESIDENTIAL
---
UNDERFLOOR HEATING INFORMATION
E 4.0

General Information about
underfloor heating

E 4.2

Batten floors with
underfloor heating
Table 1
INTRODUCTION
These instructions apply to Junckers solid hardwood floorboards nailed to battens, joists or to a subfloor of bearers in which heating pipes are installed in heat-distribution plates.
Following underfloor heating systems are described:
Nailing to bearers across batten & joist framework
Nailing to batten/joist frames with underfloor heating
Please note that full documentation comprises General information about underfloor heating and this document, see table 1.
See also C 1.0 General information, Junckers solid hardwood floors for commercial and residential areas.
If questions, please contact Junckers Technical Service Department.
---
GENERAL INFORMATION
Battens, joists and other wooden material included in substructures with underfloor heating systems must generally have lower moisture content than normally specified because the wood will dry out more – in ideal conditions max. 10%.
Veneer-laminated battens and joists supplied with a moisture content of 8-10% are therefore particularly suitable.
Insulation up to the underside of the heat-distribution plates and heating pipes will reduce the heat loss.
1. NAILING TO BEARERS ACROSS BATTEN & JOIST FRAMEWORK
2-strip or plank floorboards can be nailed to a self-supporting underlay of bearers mounted on battens/joists. Heat-distribution plates, in which heating pipes are installed, are fixed on to the bearers. The load bearing strength of the bearers must be suitable for the use of the floor. The bearers are supported by battens/joists.
For residential and office/light industrial interiors a distance of 600 mm is suitable, while for industrial, i.e. public buildings/shops battens/joist must be at maximum 500 mm. The bearers must be planed on one side so that the thickness does not vary more than ± 0.5 mm, and must also have a residual thickness which leaves enough room for the heat-distribution plates. The thickness is usually minimum 23 mm.
Please note that in this example the floorboards lie parallel to the bearing battens/joists.
---
1.1 FLOOR COMPONENTS, NAILING TO BEARERS ACROSS BATTEN & JOIST FRAMEWORK
Junckers solid 2-strip or plank floor
Wood species, dimensions, grades and finish:
22x129 mm 2-strip: see B 2.0
20.5x140 mm Planks: see B 5.0
20.5x185 mm Planks: see B 6.0

Nailed to bearers with:
Junckers J-nails (machine nails) or 2.6 x 65 mm T-nails (machine nails) in every third bearer or 450 mm c/c.
Intermediate layer
Floor cardboard, 500 g/m²
Heat-distribution plates
Floor heating pipes
Bearers
25 x 100 mm, planed on one side, c/c distance: 150 mm
Insulation
Battens / Joists
Maximum c/c distances:
Residential: 600 mm
Packings
Moisture barrier
Junckers Sylvathene, 0.20 mm PE membrane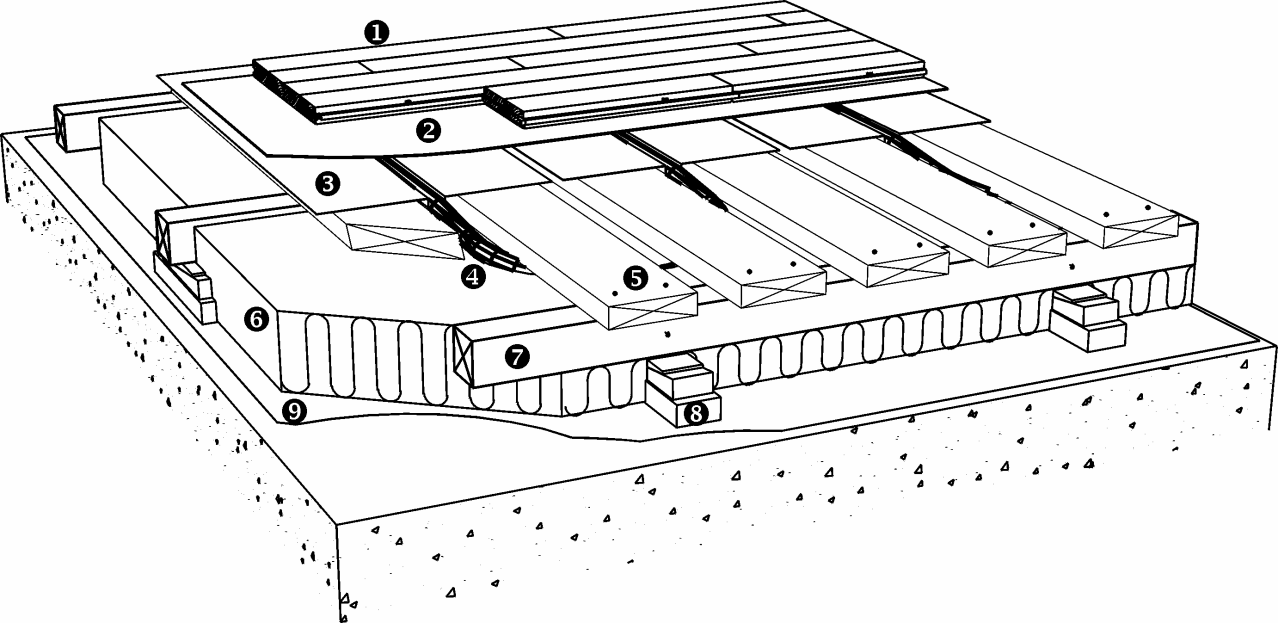 2. NAILING TO BATTEN/JOIST FRAMES WITH UNDERFLOOR HEATING
22 mm solid 2-strip floorboards and 20.5 mm solid planks can be nailed to battens/joists which have an underfloor heating system built in between.
The underfloor heating system comprises heat-distribution plates with heating pipes laid on a wooden underlay of bearers boards, supported by noggins attached to battens/joists.
To avoid creaking floor cardboard, 500 g/m² is placed as an intermediate layer on the heat-distribution plates before the floorboards are installed.
To achieve the best possible temperature distribution the heat-distribution plates must be in close contact with the floorboards and the intermediate layer. This is done by mounting the upper side of the bearer's level with the upper side of battens/joists.
The maximum 600 mm spacing of battens or joists makes this floor structure suitable for use in residential, offices and light industrial buildings.
---
2.1 FLOOR COMPONENTS, NAILING TO BATTEN/JOIST FRAMES WITH UNDERFLOOR HEATING
Junckers solid 2-strip or plank floor
Wood species, dimensions, grades and finish:
22x129 mm 2-strip: see B 2.0
20.5x140 mm Planks: see B 5.0
20.5x185 mm Planks: see B 6.0

Nailed to battens/joists with:
Junckers J-nails (machine nails) or 2.6 x 65 mm T-nails (machine nails)
Intermediate layer
Floor cardboard, 500 g/m²
Battens / Joists
Maximum c/c distance: 600 mm
Heat-distribution plates
Floor Heating pipes
Bearers
25 x 100 mm, c/c distance: 150 mm
Noggins
Fittings for noggins
Ceiling + insulation