GLUING SOLID HARDWOOD FLOORS
SPECIFIER'S INFORMATION
---
JUNCKERS GLUE DOWN SYSTEM
C 1.0

General Information

C 1.3

Glue Down System
Information

C 1.3.1

Specifier's Information

C 1.3.2

Laying Instructions
Table 1
GENERAL DESCRIPTION OF FLOOR SYSTEM
Gluing floors can be conducted in residential and commercial areas using following floor types:
- 14 and 22 mm 2-strip solid hardwood floor boards
- 15 and 20.5 mm solid hardwood planks
All variants can be delivered as shipsdecking.
The floor boards are glued to a dry loadbearing subfloor of concrete, lightweight concrete, screed or wooden material. The system can be installed in combination with underfloor heating systems, see E 4.3.
Please note that full information on a floor system comprises the data in C 1.0, C 1.3, C 1.3.1 and C 1.3.2, see table 1.
---
Floor Components
Junckers 2-strip or plank floor
Wood species, dimensions, grades and finish:
22 x 129 mm 2-strip: see B 2.0
14 x 129 mm 2-strip: see B 3.0
20.5 x 140 mm Planks: see B 5.0
20.5 x 185 mm Planks: see B 6.0
15 x 129 mm Planks: see B 7.0
Glue and moisture barrier
Junckers Parquet Glue
Junckers Liquid Moisture Barrier (if required)
Expansion gap at the wall
1.5 mm per m of floor width on each side and 1 mm per m length at each end. All gaps should be a min. size of 12 mm (UK: min. 15 mm). Is also required at fixed points, e.g. columns.
---
SYSTEM SPECIFICATIONS
The glue down system is installed as a fully glued floor on a dry, loadbearing subfloor of concrete, lightweight concrete, screed or wooden material.
The subfloor must be flat, with a maximum deviation of 2 mm under a 1.5 metre straight edge (UK: 3 mm under a 2 m straight edge).
The surface must be smooth. Any minor irregularities must be corrected.
Step sound reduction by installation on heavy constructed horizontal divisions:
14, 15, 20.5 and 22 mm glued floor boards: 9 dB.

---
FLOOR BOARDS
Floor boards are laid in a continuous, irregular pattern with header joints distributed randomly across the entire floor. To avoid waste, the off cut from the last completed row is used to start one of the following rows.
---
EXPANSION JOINTS
To minimize the movements in the floor caused by fluctuations in the climatic conditions in the building, it will, for large commercial floors, be necessary to build in expansion joints. However existing expansion joints in the subfloor will decide the actual dividing of the flooring. Contact Junckers Technical Service for advice.
---
GLUE AND APPLICATION
For the gluing of the floorboards Junckers Parquet Glue is to be used. The glue is applied using Junckers spatula. Use approx. 0.5-0.6 litre per m², depending on the absorption capacity, structure and flatness of the subfloor, see C 1.3.
---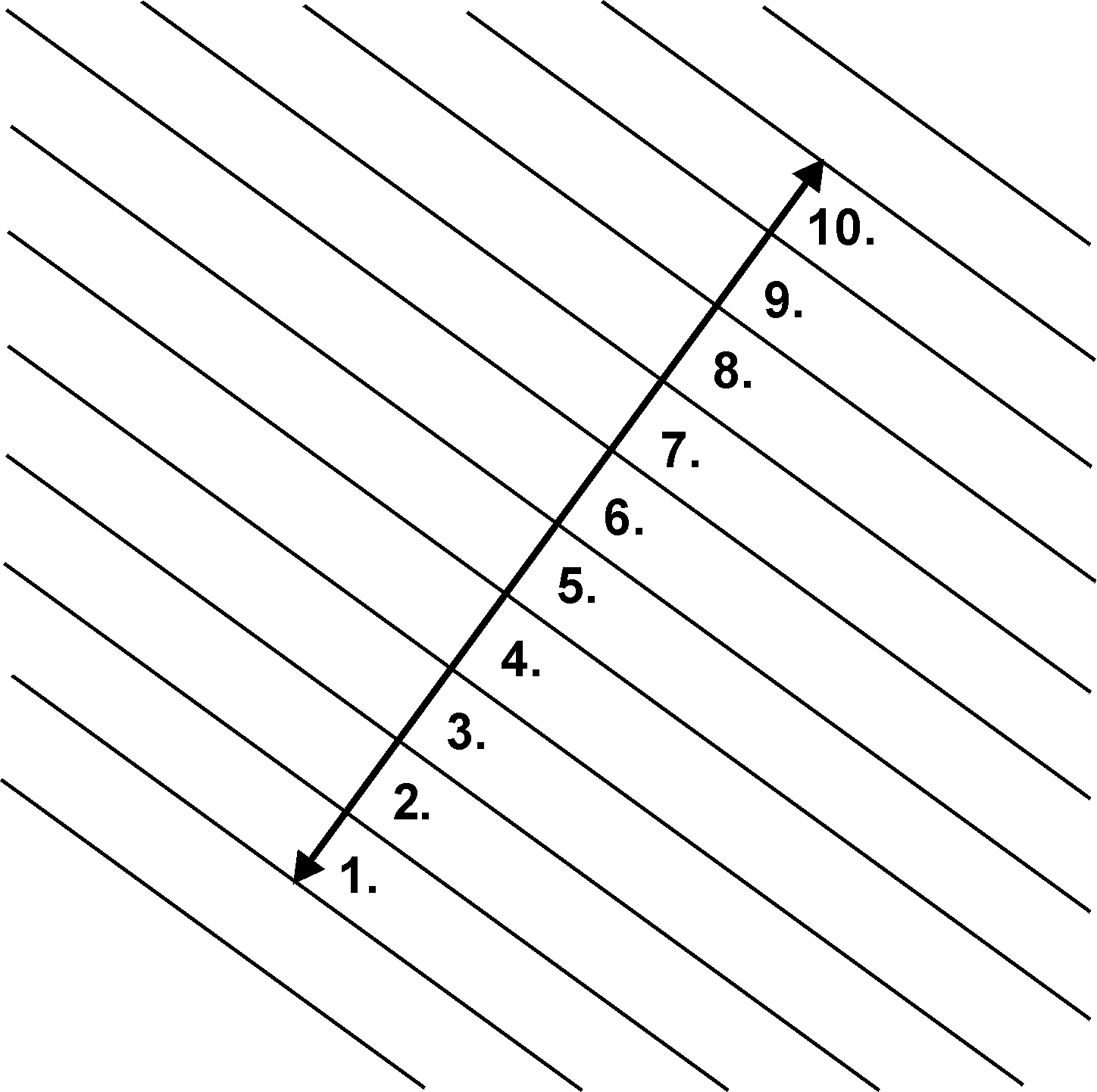 10-BOARD MEASUREMENT
In order to minimize stress, distortion or gaps in the floor due to fluctuations in the climatic conditions within the building, boards must be laid according to a 10-board rule. This indicates the measurement across 10 boards when laid and should be checked continuously during installation and afterwards, see Fig. 2.
To keep the fixed 10-board measurement (10 BM), it is recommended to use spacers when installing the floor. Table 1 shows the choice of spacers and 10 BM for boards with width 129, 140 and 185 mm based on the subfloor structure and the expected maximum relative humidity in the building, see Fig. 3.
Spacers:
Use spacers to keep the 10-board measurement during installation.
The 10-board measurements noted in table 2 state how many millimetres 10 floor boards must cover in width when installing a floor. The measurement must continuously be checked during installation.
Table 2

Type of
spacer

10-board measurement
by different floor board widths

Construction

129mm

140/185 mm

129 mm

140 mm

185 mm

Concrete ground floor

0.4mm

0.6 mm

1294 mm

1406 mm

1856 mm

Concrete upper floor

0.2 mm

0.4 mm

1292 mm

1404 mm

1854 mm

Wooden based subfloor

0.2 mm

0.4 mm

1292 mm

1404 mm

1854 mm

Shipsdecking

- *

- *

1298 mm

1408 mm

1858 mm
* Spacers are not used for shipsdecking.
Consumption of spacers:
Spacers are used at max. 900 mm between all board-rows up to 3 m back in the laying direction.
This gives a consumption of approx. 25 spacers per metre of floor, calculated in the lengthwise direction of the boards.
---
LOADBEARING STRENGTH
The loadbearing strength of the floor system depends on the type of load. Table 3 presents loadbearing strength in accordance with the load classes. For further definition of load classes and types, see C 1.0
Table 3

Loading types

Loading category

Area- and Point load

Wheel load

A+B: Residential + Office

Approved (all products)

Approved (all products)

C1 + C2 + C3 + D1: Public buildings and shoppings areas

Approved (all products)

Approved (all products)
---
CONSUMPTION OF MATERIALS
Floor boards: approx. 2% wastage.
Junckers Parquet Glue: approx. 0.6 litres per m² (incl. waste).
Junckers Liquid Moisture Barrier: 225 g per m² as moisture barrier and 125 g per m² as primer.
Junckers Spatula: 1 pcs.