SINGLE STAVE BLOCKS
PRODUCT INFORMATION
---
PRODUCT DESCRIPTION
Junckers Single Stave Blocks, also called Single Stave Parquet or Herringbone flooring is manufactured as untreated single staves.
The staves are available in different lengths, widths and thicknesses, see Product Data / Tolerances.
Each stave is tongued and grooved on all four sides. The staves are available as right- and left hand staves.
After gluing down the staves, the floor needs to be sanded and surface treated with lacquer or oil.
---
PRODUCT DATA / TOLERANCES
Nominal Dimensions

Drying Method

Moisture Content

Precision Engineering

Thickness:
22.0 mm (±0.2 mm)
15.0 mm (±0.2 mm)

Width x Length:
Type 1:
58.3 x 467.6 mm (±0.2 mm)

Type 2:
62.2 x 623.5 mm (±0.2 mm)

Kiln drying.

The staves are supplied with an average
moisture content of 8% (±2%).

Landing Deviation: 0.3 mm
Stave ends are right angled
at ±0.1 mm.
PRODUCT RANGE
Wood Species

Grade

Surface

Product variant

Oak

Harmony

Untreated

Right handed stave
Left handed stave
---
TECHNICAL PROPERTIES
Resistance to Indentation (Preliminary)

Fire Classification

Thermal Conduction

Heat Resistance

Oak: Approx. 3.4 Hardness Brinell

Cfl – S1 (DIN EN 13501-1: 2002)

Transmission coefficient:
Approx. 0.17 W/mK

22 mm: Approx. 0.13 m² ºC/W
15 mm: Approx. 0.09 m² ºC/W
---
Pattern-blocks for English Pattern available in Oak and Black Oak.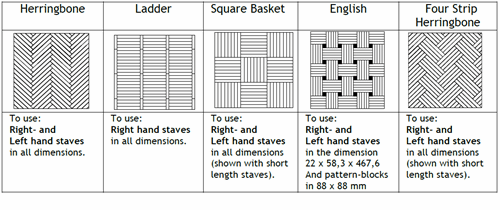 ---
PACKING AND WEIGHT
Wrapped in polythene in bundles as listed below:
| | | | | |
| --- | --- | --- | --- | --- |
| Stave dimensions [mm] | Staves / m² | Staves / bundle | m² / bundle | Kgs / bundle |
| 15 x 58.3 x 467.6 | 37 | 48 | 1.31 | 14.9 |
| 15 x 62.2 x 623.5 | 26 | 48 | 1.86 | 19.7 |
| 22 x 58.3 x 467.6 | 37 | 32 | 0.87 | 14.7 |
| 22 x 62.2 x 623.5 | 26 | 32 | 1.24 | 19.2 |