HEXPARKET
PRODUCT INFORMATION
---
Hexparket
Junckers Hexparket is produced as untreated hexagonal tiles in 3 seperate pieces, see fig. 1. Each tile is provided with a groove on all sides. Delivered with loose tongues, 180 mm of length.
Nominal Board Dimensions:
Thickness: 20.5 mm (±0.2 mm)
Size: 370 x 370 x 370 mm (±0.5 mm)
Drying Methods: Kiln dried.
Moisture Content, MC:
Oak: 8 % (±2 %)
Black Oak: 9% (±2 %)
NH3 treatment of Black Oak means that MC can´t be measured by using a conventional moisture meter but must be measured by the "dry weight method".
Precision Engineering: Landing Deviation: 0.4 mm.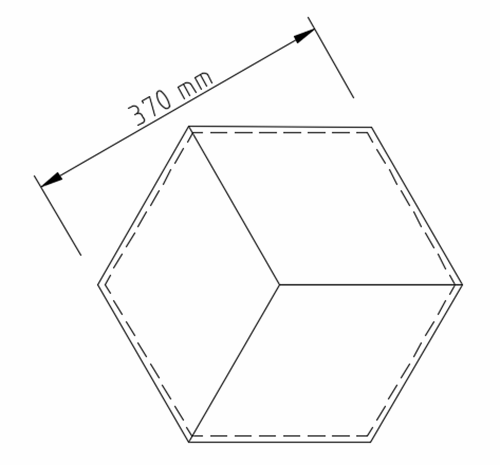 ---
TECHNICAL PROPERTIES
Resistance to Identation: 3.4 Hardness Brinell
Fire Classification: Dfl – S1 (DIN EN 13501-1: 2002)
Thermal Conduction: (Transmission Coefficient):
Approx. 0,17 W/mK
Heat Resistance: Approx. 0.12 m2 K/W
Surface: Final sanding to grit 150
PRODUCT RANGE
Wood Species

Tile size [mm]

Grade

Surface

Oak
Black Oak


20.5 x 370 x 370 x 370


Harmony


Untreated
---
PACKING AND WEIGHT
The tiles are wrapped in LDPE plastic.
| | | | |
| --- | --- | --- | --- |
| Tiles / m2 | Tiles / pack | m2 / pack | Kg / pack |
| 8.44 | 8 | 0.95 | 14 |