Do you really need to treat your wooden floors with kid gloves?
Two perceptions of durability: Our Technical Manager Richard Aylen discusses the case for NOT treating your hardwood floor with too much care.
Some people can afford to be a bit meaner to their hardwood floors.
We are all interested in what customers think of our floors, but when I found out for the first time how the same floor type can be perceived so differently when laid in different types of building, I was surprised.
Same floor, different uses
Take for example two different sites; one, a sports hall and the other a shopping centre, both fitted with similar solid hardwood floors. From daily conversations with clients and architects I can say that the shopping centre floor will be perceived as durable, hard wearing, long lasting, repairable – a beautiful but dependable "workhorse" of a floor that can also be refurbished many times over. The client knows that it will take any number of tables and chairs, any amount of foot traffic and stand up to the variety of footwear that the public choose…. all the things we like to hear. A good example is the food court at the Trafford Centre Retail complex in Manchester, a Junckers 20mm solid oak floor over 20 years old and still going strong.
Junckers solid Oak flooring installed at Aeroville Shopping Centre outside Paris. Floors specified and installed in shopping centres will generally be perceived as hard-wearing, durable and able to withstand heavy foot traffic. Hardwood floors are an excellent choice for high traffic areas.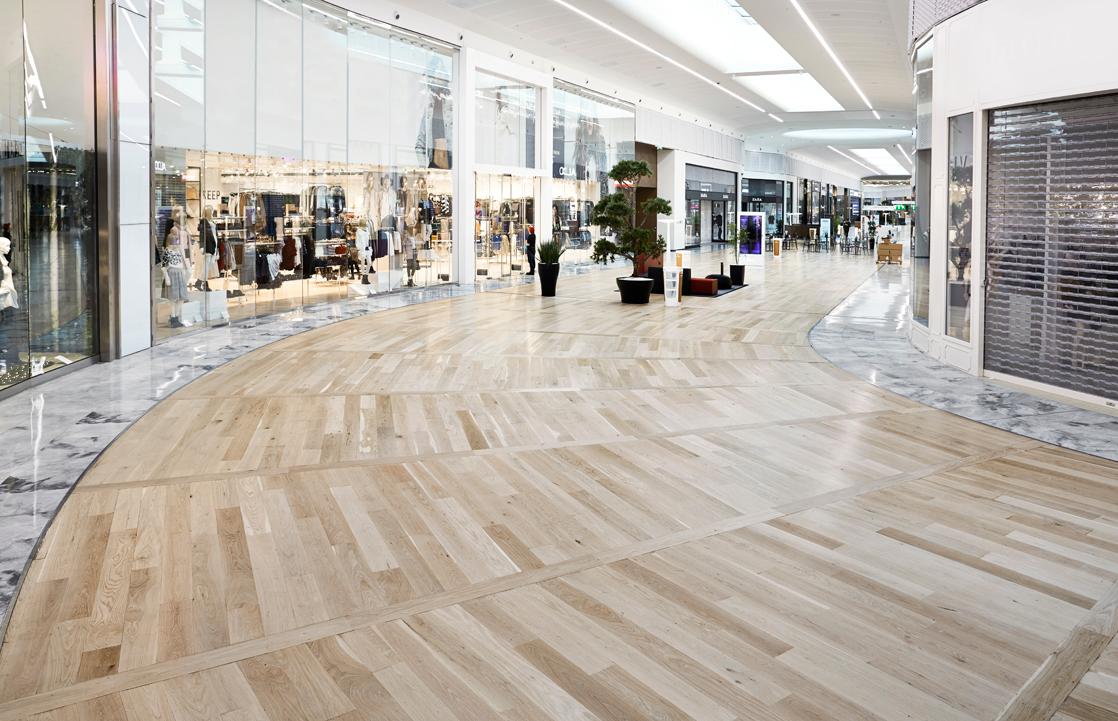 Can I put tables and chairs on my sports hall floor?
The sports floor will also be seen as long lasting and durable, but this will ONLY be so when it is used specifically for sports, and the client may become quite nervous at the prospect of using it for anything else. The floor is often a lot more versatile than they assume it is. School premises managers will often ask if their sports hall can have tables and chairs put on it. They are going to fill the hall with chairs – will it bear the load? Can they use the floor for an open-day or fill the hall with diners? Often they assume it will need protection for all activities apart from sports, and will ask us what the manufacturer recommends for protection. Some clients are keen to allow roller skaters and tap dancers on their hardwood sports floor, but fear that the surface will be damaged. Both activities are usually fine on solid hardwood floors and manufacturers will often have some simple guidelines for users to follow. It's always good to be able to reassure them that the floor will be OK for all those activities without using protection – so avoiding the cost of buying a temporary covering and finding somewhere to store it.
Junckers solid Beech sports flooring installed at Oriam, Scotland. Photo: broad daylight. With a technically advanced sport flooring system, clients can express worry when it comes to non-sport use, seeing their high performance floor as 'fragile', which is not the case at all.
The village hall – a true multi-purpose floor
Community halls are a very good example of the best of both worlds because they can cross over into sports use but are often used for social functions as well. Community hall committees often depend upon a full booking schedule to keep revenue flowing. They tend to give their floors a hard time by getting as much use from the floor as it will give – and still a solid hardwood floor will last them for decades given proper care and maintenance. They really make their floors work hard, but that's what a solid hardwood floor is designed to do. Of course, the floor will show signs of use, the surface finish will wear, dents and scratches will appear, but solid hardwood floors are actually quite hard to destroy and can be refurbished many times over.
Junckers solid Beech sports flooring installed at Oriam, Scotland. Photo: broad daylight. With a technically advanced sport flooring system, clients can express worry when it comes to non-sport use, seeing their high performance floor as 'fragile', which is not the case at all.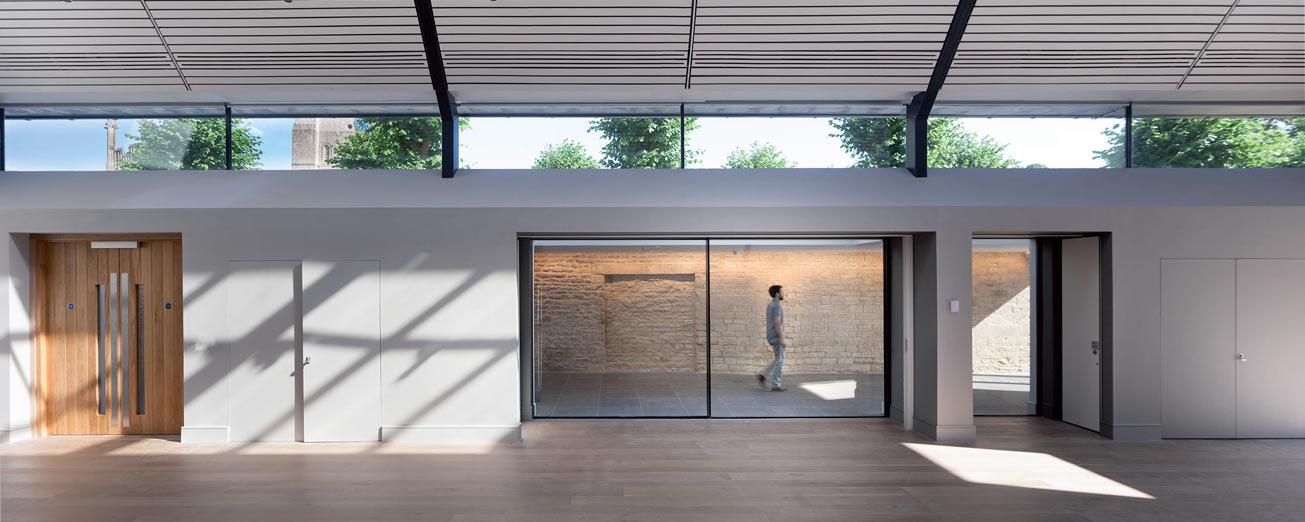 Putting your floor to good use
So why do we see the "kid gloves" approach in the sports hall market? Could sports floor manufacturers and the way they sell their products be partly responsible?
Sports floors are usually heavily promoted on their technical performance. If we, as manufacturers, talk about critical surface friction levels, special "sprung" batten systems that have scientifically proven performance and the like, then we are perhaps inviting clients to think that a thoroughbred floor may not be suitable for the knockabout treatment that can happen with everyday multi-purpose use.
The limitations of other types of floor covering may also lead customers to think that hardwood has similar shortcomings; e.g. if a thick cushion vinyl floor needs to be covered up for some types of "non-sports" use, then they may assume that the same will apply to all types of sports floor.
The fact is that a solid hardwood floor has a lot more to offer the client than simply being a technically advanced sports surface, and the life span will often be many times longer than say a synthetic or engineered wood floor. A case in point is a 22mm Junckers Beech floor that we supplied in 1964 to a secondary school dance studio not far from our offices in Essex. It is still giving good service, and we are told it is hired out annually for a local beer festival, so no kid gloves here!
You don't have to treat a solid hardwood floor like a fragile or delicate surface. Just enjoy it, make it work for you. Be sensible, but don't be over-sensitive. It will take some hard treatment, it is designed to, and when the battle scars appear you can refurbish it… time and time again.
This article first appeared in Contract Flooring Journal magazine
Have a technical question?
Contact our Technical Manager Richard on ria@junckers.com