Social Distancing And Cleaning For Sports And Activity Floors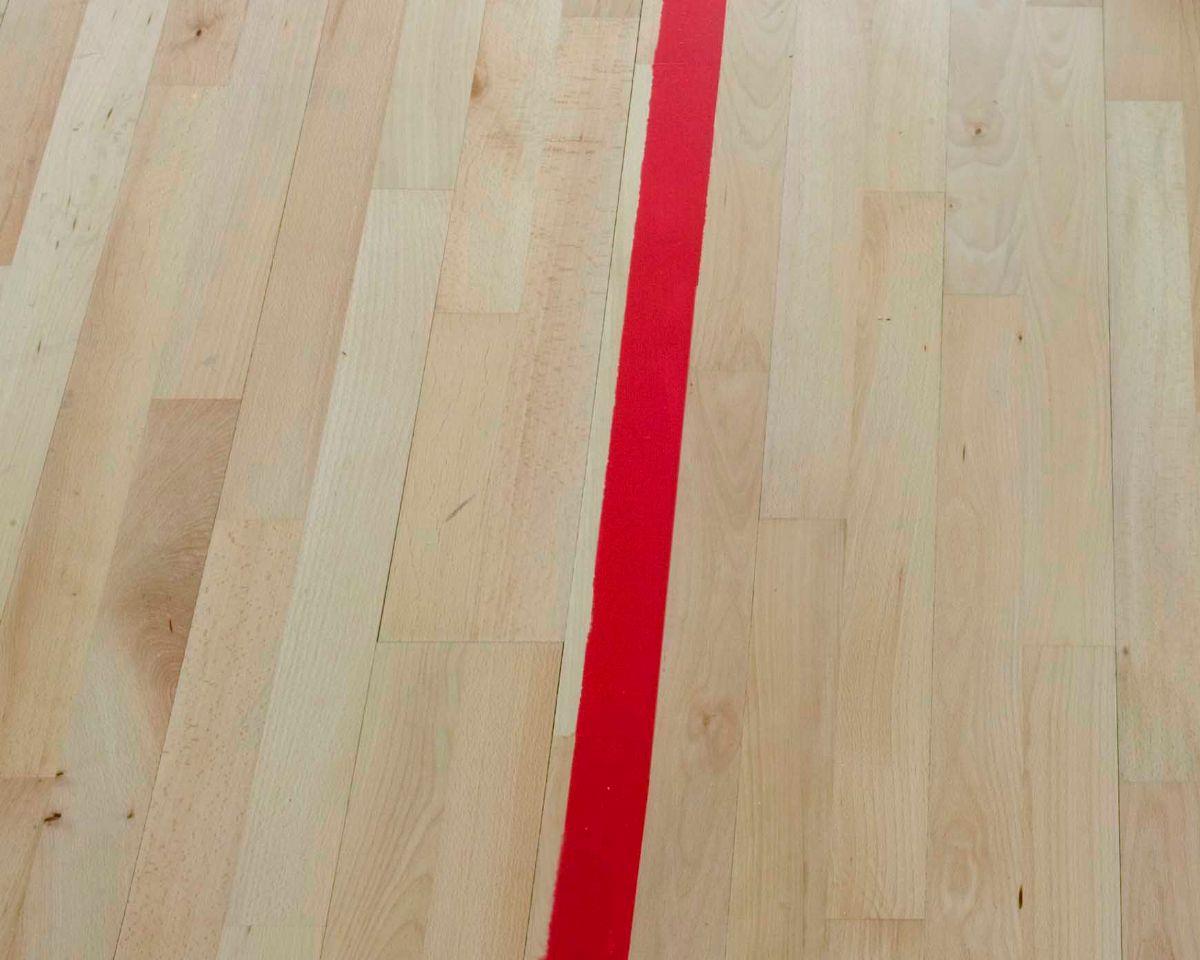 With sports centres in the process of reopening we have been asked two main questions related to social distancing and floor cleaning.
Using adhesive tape to mark off areas for social distancing,
How to "deep clean" or sterilise the floor.
Whilst we do not have definitive answers we can suggest some approaches for clients to consider. Please note we are not qualified to advise specifically on matters of public health therefore definitive answers should be sought from a fully qualified source where necessary.
Floor Marking Tape
With regard to adhesive tape our standard recommendation is that it must be a purpose-made sports/ floor line marking tape with low-tack adhesive.
The tapes must not be left in place for extended periods. With prolonged use the adhesive may soften the floor lacquer resulting in damage. Unfortunately it is not possible to specify a "safe" time scale, and this will probably vary for different tapes.

When the tapes are removed this must be done slowly to allow the adhesive time to release. If the tapes are pulled off very quickly this may damage the floor lacquer. Adhesive residues may usually be removed with white spirit. Do not use cellulose thinners or similar solvents.
Unfortunately we do not know for how long social distancing is going to be in force and there is a possibility that some damage to the floor lacquer may occur.

Over a period of months the floor will be subjected to wear and tear. Therefore when the tapes are removed this will expose areas that have otherwise been protected from wear. It is possible that the areas previously covered by the tapes will be visible because of the different amounts of wear the surface has been subjected to.

One approach may be to plan ahead and provide a budget for the floor to be cleaned, abraded and sealed after the tape is removed. Any difference in surface sheen will be eliminated when the new coat of lacquer is applied.

Natural colour change in the timber due to sunlight may in the long term mean that a "ghost" of the lines may be a seen after tape removal. This colour difference may only be removed by sanding back to bare wood and resealing.
"Deep Cleaning" the floor
The UK Government and HSE provide guidance on the need to clean sports and activity floors under the presence of corona- virus.

Our understanding is that a disinfectant used in a scrubber dryer machine should be effective against viruses. Unfortunately Junckers cleaning products are not in this category and we have not tested alternatives. Potential risks are that the lacquer may be affected or that the disinfectant may leave a residue which will alter the floor's surface friction. Note also that any process that involves significant wetting of the floor may cause damage.

Experience shows that steam cleaners, properly used, are safe to use on wooden floors and machine manufacturers tell us the process will kill viruses. For small floor areas this may be a good solution but because most machines have relatively small cleaning heads they may not be practical for large halls.

In all cases the client should obtain advice from the manufacturer of both machine and disinfectant to ensure that the process will be effective and the floor will not be damaged.

For customers in the UK, one of the larger floor cleaning system manufacturers has offered to be a contact point for advice relating to these unusual circumstances, and we will be pleased to pass on their details upon request.
For more information, contact Junckers Technical Department